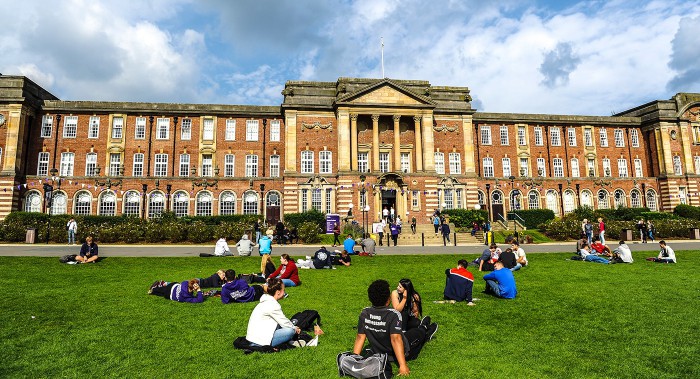 Leeds Beckett University
Asukoht
Leeds

Asutamisaasta – 1824 (Leeds Mechanics Institute), ülikooli status saadud aastal 1992.
Üliõpilaste arv – 23 200, 18 000 – bakalaureuseõppes

Lühiülevaade
Leeds Becketti ülikooli ajalugu ulatub aastasse 1824, mil avati Leeds'i Mehaanika Instituut. Õppeasutus mängis olulist rolli 19. sajandil, kuna tööstusrevolutsiooni ajal oli Leedsis kõrge nõudlus tehnilise haridusega töötajate järele. Hiljem avati linnas veel mitu tehnikakooli - mõned neist moodustasid 1970. aastal Leeds'i Polütehnilise Instituudi, mis hakkas 1992. aastal tegutsema Leeds Metropolitan University nime all. 2014. aastal muutis ülikool oma nime Leeds Beckettiks. Tänapäeval võimaldab Leeds Beckett lisaks tehniliste erialade laiale valikule õppida humanitaarteaduste, kunsti, õiguse, meedia ja teiste valdkondade erialasid. Ülikooli linnaku infrastruktuuri on investeeritud 125 miljonit naela ning alates 2020. aasta septembrist hakkavad spordi- ja tervisevaldkonna üliõpilased õppima uues hoones, mis on varustatud uusima tehnoloogiaga. Ülikooli linnaku edasiseks arenguks kavatsetakse investeerida loomingulistesse programmidesse, milleks on plaanis kulutada 80 miljonit naela. Uuendatud on ka ülikooli raamatukogu, kuhu on paigutatud uued rühmatööde ruumid, klassiruumid ja kohvikud.

Leeds Becketti üliõpilasesindus võimaldab osaleda erinevates klubides ja huviringides ning vabatahtlikes organisatsioonides. Valik on mitmekesine – harrastada saab nii jalgpalli kui ka joogat; programmeerijate klubi võimaldab tegeleda üheskoos arvutiteaduste arendamisega; Harry Potteri huvilistele pakub kindlasti huvi "Harry Potteri fänniklubi". Leeds on ka muusikasündmuste populaarseks toimumiskohaks - igal nädalal korraldatakse Briti ja välismaiste esinejate kontserdid.

Nelja ülikooliga suur moodne Leeds on Ühendkuningriigi üks võimsamaid üliõpilaslinnasid. Viimastel aastatel on Leedsis toimunud suurejoonelised arhitektuurilised ümberehitused ja kultuurilised muutused, ennekõike uute kaubanduskeskuste ja kunstigaleriide ilmes.
Fotogalerii
Video
Bakalaureuseõppe erialad

Accounting and Finance
Adult Nursing
Architectural Technology
Architecture
Architecture & Landscape Design
Audio Engineering
Biomedical Sciences
Broadcast Media Technologies
Building Services Engineering
Building Surveying
Business Accounting with Finance
Business and Management
Business Economics
Business Management with Analytics
Business Management with Enterprise
Business Management with Finance
Business Management with Law
Business Management with Leadership
Business Management with Marketing
Childhood Development and Playwork
Childhood Studies
Civil Engineering
Computer Animation and Visual Effects
Computer Forensics
Computer Forensics and Security
Computer Science
Computer Security
Computing
Computing for Business
Construction Management
Counselling and Mental Health
Creative Event Design
Creative Media Technology
Creative Writing in Contemporary Culture
Criminology
Criminology with Psychology
Dance
Data Science
Dietetics
Digital Journalism
Early Years
Early Years with Enterprise
Economics and Finance
Educational Psychology
Electronic and Electrical Engineering
English and History
English Literature
English with Creative Writing
Environmental Health
Event Marketing
Events Management
Event Operations and Production Management
Fashion
Fashion Marketing
Filmmaking
Fine Art
Games Art
Games Design
Geography
Geography and Environmental Science
Graphic Design
Health and Community Care
Health and Society
History
History and Media
Hospitality Business Management
Housing Studies
Human Geography
Human Geography and History
Human Geography and Planning
Human Resource Management and Business
Illustration
Innovation and Skills for Social Change
Interior Architecture and Design
International Business
International Relations
International Tourism Management
International Tourism Management with Adventure Tourism
International Tourism Management with Marketing
International Tourism Management with Social Responsibility
Journalism
Landscape Architecture and Design
Law
Law with Criminology
Law with Finance
Law with International Business and Management
Marketing Management
Marketing with Advertising Management
Marketing with Retail Management
Media and English
Media Communication Cultures
Mental Health Nursing
Music Industries Management
Music Performance and Production
Music Production
Music Technology
Nutrition
Performing Arts
Physical Activity, Exercise & Health
Physical Education
Physical Education with Outdoor Education
Physiotherapy
Politics
Politics with Global Development
Politics with Peace Studies
Politics with International Relations
Politics with Political Economy
Politics with Human Rights
Primary Education with Recommendation for Qualified Teacher Status
Product Design
Project Management
Psychology
Public Health and Society
Public Relations and Brand Communication
Public Relations with Journalism
Quantity Surveying
Real Estate and Property Management
Robotics and Automation
Safety Health and Environmental Management
Science of Sport Performance
Social Care, Justice and Recovery
Social Psychology
Social Work
Sociology
Sociology and Criminology
Sociology and Psychological
Speech and Language Therapy
Sport and Exercise Nutrition
Sport and Exercise Science
Sport Business Management | BA (Hons)
Sport Development
Sport Marketing
Sports and Exercise Therapy
Sports Coaching
Sports Events Management
Teaching and Education
Theatre and Performance
Working with Children, Young People and Families
Youth Work and Community Development (JNC)

Sisseastumine:
- UCAS`e õppeavalduse esitamise tähtaeg on 15. jaanuar. Baltic Council for International Education on ametlik UCAS`e vastuvõtukeskus Baltimaades ja Poolas.

Registreeruge tasuta konsultatsioonile ja kasutage meie teenust: Nõustamine sisseastujale bakalaureuseprogrammidele.